Different breast cancers behave in different ways, which necessitates separate treatment guidelines to address the individual characteristics of specific types of cancer. As knowledge evolves, treatment guidelines are updated to reflect up-to-date information about breast cancer. Recently, the American Society of Clinical Oncology (ASCO) published guidelines on the use of chemotherapy and targeted therapy in the treatment of patients with advanced, HER2 negative breast cancer.
What is HER2 Negative Breast Cancer?
HER2, or human epidermal growth factor receptor 2, is a protein that the human body develops to help regulate reproduction of the cells. Sometimes the gene responsible for developing this protein will over-replicate itself, which can result in overproduction of HER2. In HER2-positive breast cancer, there is an overexpression of the HER2 protein. In HER-negative breast cancer, this is not the case.
About 80 percent of women with advanced breast cancer have HER2-negative breast cancer, according to ASCO. However, while targeted therapies have begun to emerge for HER2-positve breast cancer, development of targeted therapies for HER2-negative breast cancer has lagged.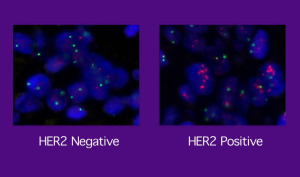 ASCO Guidelines for Advanced, HER2 Negative Breast Cancer Treatment
To help physicians navigate the developing landscape of treatment options, ASCO guidelines for the treatment of advanced HER 2 negative breast cancer suggest pathways that optimize outcomes in patient-centric manner while minimizing unnecessary harms and side effects.
Take-away points from the guideline, published September 2014 by Journal of Clinical Oncology, state:
Hormone therapy should be recommended rather than chemotherapy as a standard first-line treatment in patients with hormone-receptor-positive cancer, unless cancer is immediately life-threatening or when resistance to hormone therapy is suspected.
Chemotherapy agents should most often be delivered one at a time rather than simultaneously to minimize potential for side effects.
Bevacizumab, a drug that has been shown to delay disease progression, should only be considered with single-agent chemotherapy when cancer is immediately life-threatening.
Physicians and patients should make treatment decisions together, considering factors like prior therapies, other health conditions, side effects and patient preference.
Palliative care should be offered early and throughout the course of the patient's illness.
Providers should encourage all eligible patients to participate in clinical trials which can offer promising, new experimental treatments.
Developments in our knowledge of different breast cancers, as well as in their treatments, are allowing us to detect and treat breast cancer with better results than ever before. As a comprehensive, multidisciplinary breast cancer treatment network, Breastlink is committed to tracking these developments to ensure our patients benefit from up-to-date information that can optimize treatment decision-making.
To learn more about Breastlink services, including treatment for HER 2 negative breast cancer treatment, please call 714.804.0940 use our online 'Contact Us' form to get in touch.