It is essential that women and their physicians understand how breast density affects breast cancer risk and screening. As of December 2014, 18 states had passed breast density laws to help improve public knowledge surrounding breast density by requiring radiologists to inform patients when mammography reveals dense breast tissue.
Despite these developments, several recent surveys suggest that neither patients nor physicians fully understand the relationship between dense breast tissue, breast cancer risk, and breast cancer screening.
Patient Knowledge Regarding Breast Density
Public awareness campaigns to promote mammography screening have been effective and a significant reason breast cancer mortality has fallen over the past several years. In a survey conducted by the Working Mother Research Institute (WMRI), which we covered here, 70 percent of more than 2,500 respondents reported they had received a mammogram.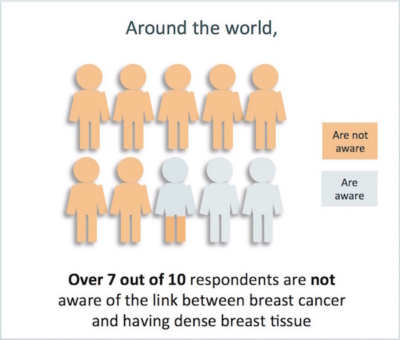 However, there seem to be gaps in public knowledge of the importance of breast cancer screening, particularly when it comes to breast density. Less than one-half of those surveyed for the WMRI report were aware that mammography is less accurate in women with dense breasts than those with fatty breasts. Only 13 percent were aware that dense breast tissue is a risk factor for developing breast cancer.
A recent international survey conducted by GE Healthcare, which included responses from 1,000 American women, returned similar results. Overall, 30 percent of respondents from 10 countries were not aware of the link between breast cancer and dense breast tissue. In the United States, less than 20 percent of women were aware of this link.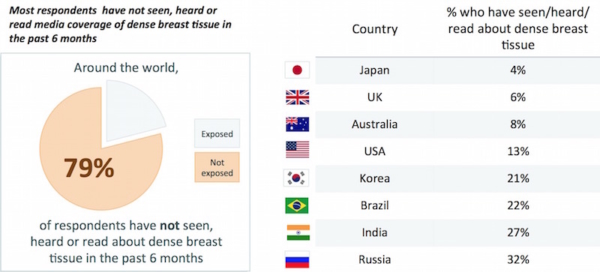 Physician Knowledge Regarding Breast Density
Physicians are partly to blame for the lack of widespread awareness around breast density. Primary care physicians have traditionally not received extensive training on breast density issues. These include dense breast tissue as a risk factor for breast cancer, the effect of dense breast tissue on mammogram sensitivity, and the use of supplemental screening in women with dense breast tissue.
To gauge how a breast density law in California has affected physician awareness, researchers from the University of California, Davis surveyed 77 primary care physicians. Results were published December 2014 in Journal of the American College of Radiology.
About one-half were unaware that a breast density law had been passed.
About two-thirds reported no change in patient concern regarding breast density.
About one-fifth reported they had never had a patient bring up a breast density notification letter.
Six percent reported they were "completely comfortable" answering questions regarding breast density.
Three-fourths expressed interest in attending an educational presentation on breast density issues.
Researchers concluded that the California breast density law did not lead to a rise in familiarity of breast density issues among primary care physicians. "The results of this study suggest that 10 months after enactment of the California Breast Density Notification Law, the intent of the legislation has not been fully realized," wrote lead author Kathleen A. Khong, M.D.
Breastlink is committed to sharing accurate, up-to-date facts regarding breast density with our patients and the physicians we work with. This includes information posted to our website and shared in our offices, continuing medical education courses and educational community events. We believe that knowledgeable, well-informed patients and physicians working together leads to shared-decision making that results in the best possible outcomes.
To learn more about breast density, whether you are a patient of physician, please get in touch using our online 'Contact Us' form.