Despite large-scale campaigns to publicize the importance of breast cancer screening, a lot of faulty information regarding the mammogram exam is still being delivered to patients and sometimes interpreted as fact.
To gauge where gaps in knowledge about breast cancer screening are most commonly occurring, the Working Mother Research Institute recently surveyed more than 2,500 women aged 35 and older to see what they know. While the results contain good news, there are areas where physicians can better educate their patients.
Most Women Have Been Screened
Fortunately, many women are well aware of the importance of screening. A majority of women (80 percent) surveyed for the 'Working Mother Breast Screening Report' indicated that they had received a screening mammogram and that most of these women (70 percent) received annual screening mammogram.
Why Some Women Don't Get Screened
The 20 percent of women who have not received a screening mammogram procedure provided a variety of reasons. Cost was the most commonly reported reason, with 36 percent responding that they could not afford a mammogram. After cost, 24 percent reported that a mammogram was unnecessary and 15 percent reported that they had not gotten around to receiving a mammogram.
Of those reporting that they had not gotten around to receiving a mammogram:
33 percent said they put it off because the procedure was uncomfortable.
22 percent said they avoided medical settings.
19 percent said they had been too busy with other responsibilities.
18 percent said they simply had not prioritized a mammogram.
6 percent said they were too busy with work.
1 percent said they were not sure where to go for a mammogram.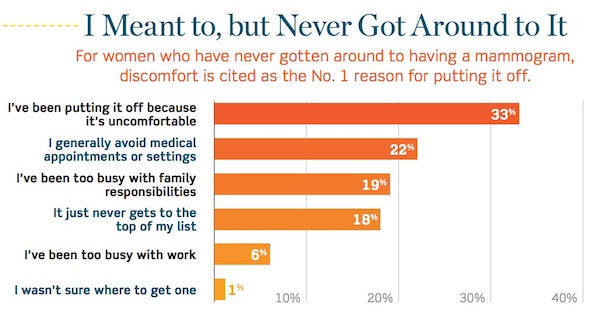 Graphic courtesy of Working Mother Research Institute.
Of those reporting that they believed mammograms were unnecessary:
41 percent said they believed a mammogram was not a valuable screening procedure.
25 percent said there was no history of breast cancer in their families.
20 percent said they performed regular self breast exam and believe this is sufficient.
19 percent said they didn't believe they were old enough.
12 percent said they concluded that a mammogram could wait after reading about the procedure.
2 percent said they used alternative screening methods.
Confusion over Breast Density
Unfortunately, the survey found that the majority of women seem uninformed about breast density. Most survey respondents don't know basic facts about dense breasts.
Fewer than half know that mammography is less accurate in screening dense breasts as compared with fatty breasts.
A mere 13 percent of participants are even aware that women with dense breasts have an increased risk of cancer.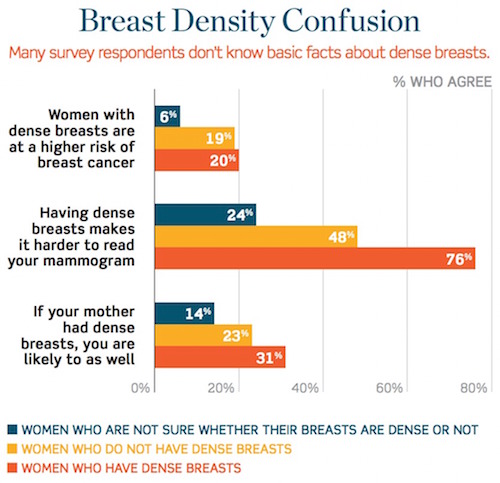 Graphic courtesy of Working Mother Research Institute.
Takeaway Points for Physicians
This survey can help physicians identify areas where they can improve mammogram information that patients receive. For instance, physicians can:
Educate patients about and help them to locate low-cost and free mammogram programs.
Although California and many other states already require physicians to inform patients if they have dense tissue, take time to ensure they truly understand how breast density affects breast cancer risk.
Provide accurate, accessible information about a mammogram exam where patients are likely to find it, whether in an office or on a website.
Discuss how lifestyle choices affect breast cancer risk.
At Breastlink, our multidisciplinary approach to breast health care allows shared decision making between our patients and our physicians and also between physicians from different specialties of breast health.
To aid in the improvement of health outcomes among our patients and in our communities, we are committed to helping patients and physicians navigate an abundance of information on breast health. If you have questions about screening mammography or breast density, please get in touch with a member of our team.