When Should a Woman Get a Mammogram?
Mammogram and party may seem like quite the oxymoron, yet the festive atmosphere at Breastlink's Temecula Valley center proved the two words can live together in harmony.
When Should a Woman Get a Mammogram and Other Questions to Ask at a Mammogram Party
A guitar player comfortably seated by the office front door strummed her instrument, providing a nice palate of background music. A table resplendent with pink and white sweets, including a tiered strawberry-pink Bundt cake, candy sticks, lollipops and gumballs, added to the festivities.
While guests munched on chipotle chicken sandwiches and sipped Chardonnay and Cabernet, a total of 25 attendees were pulled aside for their scheduled mammograms. As commonplace as mammograms are today, for many women questions about the procedure still abound.
Should I get a mammogram every year?
When should a woman get a mammogram?
How often should you get a mammogram after 40?
These are just a few of the questions we hope to answer at Breastlink-sponsored events like our recent Mammogram Party. The party was a first for the Temecula Valley office.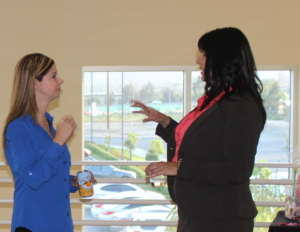 The first mammogram party hosted by a RadNet medical imaging center was at the Beverly Tower Women's Center in April 2013. According to Leslie Chambers, who has helped to organize numerous mammogram parties.
Leslie explained Breastlink is a unique facility. It is a comprehensive treatment center that provides care for breast cancer patients from diagnosis to reconstructive surgery, all under one roof. The convenience of having all the top-notch physicians at Breastlink once you enter the door means patients won't waste time going from specialist to specialist at various facilities.
"I think it's really important that we don't delay care," said Leslie. "Early detection is the best protection."
Marcy Farenbaugh who was manning the Michelle's Place booth at the event said that many of the women who come to the Temecula-based nonprofit breast cancer resource center "have been diagnosed and don't know where to start."
With a mother who had breast cancer, Marcy decided to volunteer at Michelle's Place as a way to "give back" and she hopes that events such as the Mammogram Party continue to help spread awareness for women wondering where to begin.
For more information about the breast health services Breastlink Temecula Valley offers please visit breastlink.com/centers/breastlink-temecula-valley. Please call our office if you are wondering when should a woman get a mammogram or if you have other breast health questions.